Who we
are
---
Meerpahl & Meyer GmbH was founded in 1978 in Hamburg by the shipbrokers Klaus-Peter Meerpahl and Hans-Uwe Meyer. This was followed by the opening of Branch offices in Lübeck, Wismar, Rostock, Stralsund, Duisburg, Sopot and Szczecin over the years. We regard ourselves as a maritime service provider for our customers in the dry bulk industry. We focus on the following key areas: chartering and post fixing services for charterers in the agricultural and industry raw material trades, agency services in Hamburg and in the German and Polish Baltic region, as well as sale and purchase of secondhand tonnage. Our customers are shipowners and charterers alike operating in the dry bulk trade.
We aim to be your partner of choice in dry bulk chartering with our dedicated, professional and experienced team reachable whenever you need them.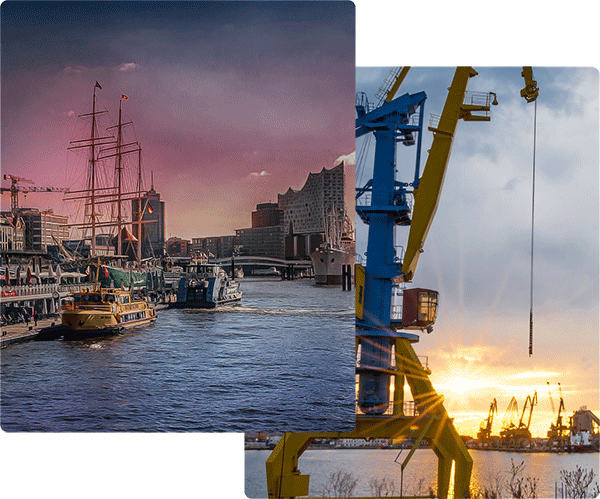 1978 founding

The foundation stone for the cooperation between the shareholders and subsequent company founding was already laid in the firm Transmar Schifffahrtskontor Adolf Feindt (Hamburg), in which Klaus-Peter Meerpahl worked until 1975 and Hans-Uwe Meyer until December 1977. On January 1st, Meerpahl & Meyer oHG was founded by the two shareholders and former colleagues Klaus-Peter Meerpahl and Hans-Uwe Meyer. The first premises were in Schröderstr. 37 in Hamburg Hohenfelde. The fleet under commercial management initially comprised ten coastal motor ships of between 1,000 and 1,600 tdw.

1987

The constantly expanding company moved to new premises in Domstrasse 11 in Hamburg Neustadt on January 1st.

1990

Opening of Lübeck branch in 1990. The business areas included chartering, operating, competitive chartering, transhipment, operating, customs clearance, cargo control, forwarding and agency, especially for goods such as building materials and fertilisers.

1991

Opening of Rostock branch on November 14th, offering agency and customs clearance services for ships of between 1,000 and 74,000 tdw.

1993

Opening of Meerpahl & Meyer Bereederungs GbR in Buxtehude on November 1st. Because of a change in the ownership structure, the management was assumed by Hans-Uwe Meyer Bereederungs GmbH & Co. KG on October 30th, 2006. This has managed four units, two coastal motor ships and two container feeder vessels, up to the present day.

1994

Founding of department for competitive chartering at the company headquarters in January, chartering approx. 1 million tonnes of mainly grain and feedstuff annually in the European coastal trade.

1995

Opening of Wismar branch at the beginning of 1995. This is active exclusively in the agency area. Owing to further expansion, the Hamburg headquarters moved again to new premises in Deichstraße 1 in Hamburg Neustadt in September.

2005

Move of the Hamburg office to larger premises in Katharinenstr. 7-9 in Hamburg, where the company today has its "home port".

2006

Opening of branches in Stettin and Sopot in 2006. From there, the company is also able to offer a full agency service in the Polish Baltic region. Opening of Duisburg branch on November 11th for meeting the increased requirements of the shipping industry locally. Seagoing, coastal and inland shipping are covered. Services offered include transporting industrial and agricultural raw materials and steel by sea, intermodal transport with feeder service via inland waterway or road, as well as franco domicile consignments.

2013

Presently the company deploys 5 vessels of between 200 and 4,000 tdw on an exclusive basis. End of September the company headquarters was moved closer to the pulse of the port of Hamburg to the Große Elbstr. 14.

2016

Relocation of the headquarters to the Erste Brunnenstr. 1, 20459 Hamburg.